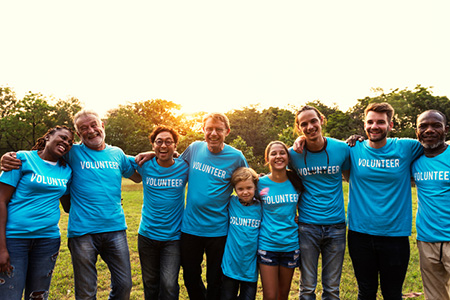 As I leave my work day here at ABMP and head to one of my volunteer commitments, I'm often conflicted with the desire to instead head home, see my family, and put my feet up for the evening versus following through on the time I've pledged to help one of the organizations I volunteer for that night. Sometimes the steering wheel tries hard to veer toward home.
But even when I'm conflicted about personal time versus volunteer time, even when I would rather be home in my garden or binging on a little bad TV, I wouldn't volunteer my time if I didn't love it and if I didn't know that I make a difference in some way. Even when it's hard, I remember the benefits of volunteering.
The Greater Good
For me, one of the main benefits of volunteering is that it feeds my soul—helping someone else, working toward a greater good, thinking of others and not just myself. It's "soul food."
Some of my fondest memories come from my community volunteering experiences: bringing holiday gifts and singing Christmas carols to residents of a nursing home when I was a 10-year-old Camp Fire girl, saving aluminum cans for an elderly neighbor who used the pennies to supplement his social security check, "adopting" a family or a grandparent for Christmas, helping my children coordinate their own food drive for a local food bank. These are moments and life lessons I will never forget.
How do you give back to the community?
Is volunteering part of your personal life? Your professional life?
A Healthy Choice All Around
While I call volunteering "soul food," others may well call it "health food." A survey of Americans by UnitedHealth Group1 found these statistics on the benefits of volunteering:
76 percent of people who volunteered in the past 12 months said volunteering made them feel healthier.
94 percent of people who volunteered in the past 12 months said volunteering improved their mood.
78 percent said volunteering lowered their stress levels.
96 percent said volunteering enriched their sense of purpose in life.
80 percent said they felt like they had control over their health.
But altruism is something that's not only healthy for you, it's healthy for your business, too. Here are just a few of the ways that volunteering your massage skills can strengthen your business:
Gets your name and business name out in the community.
Creates goodwill for you and for the profession as a whole.
Lets you introduce massage and its benefits to a whole new group of people.
Gives you hands-on time with new and unique bodies to strengthen your skill set.
Beyond that, consumers say they will pay more for services, and even switch brands, if they know a company gives to charitable causes. And 93 percent of consumers want to know what companies are doing to make the world a better place.2
Consider EveryBody Deserves a Massage Week
If you are already a community volunteer, congratulations! You are making a difference. If you are curious about how to give back to the community, one idea is to volunteer during ABMP's annual EveryBody Deserves a Massage Week (EBDMW), July 16–22.
By lending your hands to this event, you help educate the public about the value of therapeutic massage, why it is beneficial, and what it can do to relieve pain and stress. Even more importantly, you'll simply be doing good work.
Over the years, ABMP members have organized events both big and small for EBDMW. Whether it be collecting canned goods for the local food bank, donating a percentage of the week's earnings to a favorite charity, giving free chair massage to first-responders at a local fire station, or volunteering time at a community race, the possibilities for how you can participate are endless.
And we make it easy for you by providing community volunteer ideas, marketing materials, and everything you need to have a successful volunteer effort. Want to know more about EBDMW? Need some ideas on how to get started? Start here to learn more about EveryBody Deserves a Massage.
Remember, it's not always easy being a volunteer, but it always makes a difference!
—Karrie Osborn is senior editor at ABMP.
Notes
UnitedHealth Group, "Doing Good is Good For You," 2013, accessed June 2017, www.unitedhealthgroup.com/~/media/UHG/PDF/2013/UNH-Health-Volunteering-Study.ashx.
Engage For Good, "Consumer Preference," accessed June 2017, www.engageforgood.com/guides/statistics-every-cause-marketer-should-know.