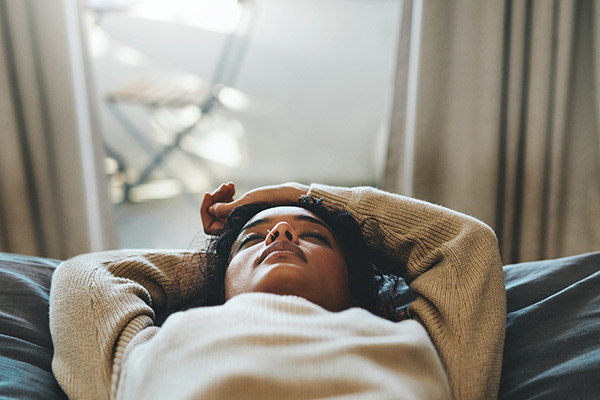 By Karrie Osborn
Pandemic fatigue, COVID exhaustion. No matter what we call it, our spirit continues to be tested daily because of it. We all have a front-row seat on this emotional rollercoaster and I know you, like me, are ready to get off. Unfortunately, that is not our choice. As we continue to navigate this pandemic, it's important we don't give in to the exhaustion, the overwhelm. More than ever, now is the time to gather our resolve, honor our emotions, and commit to our self-care as we work to make it through to the other side.
Gather Your Resolve
Yes, it's been a long journey, but now is not the time to let off the brakes. Exhaustion does not and should not equate to letting your guard down. Gather your resolve. Be diligent in your practice (if you are practicing), and in how you behave at home. I may not clean my doorknobs at home twice a day like I did in March when we were dealing with so many unknowns, but I have not forgotten the importance of those basic guidelines we were given in the beginning. It's a good time to reacquaint yourself with all those protocols.
Once you find your resolve, share it. Be there for your circle—your family, your friends, your colleagues, your clients. Be candid and responsive; be supportive and present. And it's OK to be there for strangers too. Smile wide behind that mask so others can see the twinkle in your eyes when you cross paths in the grocery aisles.
This isn't easy for anyone, and for some, it is devastating; never forget to be kind to yourself and others and remember that we don't know each other's stories or pains. And most importantly, practice using these words: "Thank you" and "I'm sorry." It means a lot when you do.
Honor Your Emotions
For me, there has been an onslaught of feelings and emotions I careen into each pandemic day; I liken it to a pinball machine, where I'm the little silver ball and sadness, grief, hopefulness, joy, anger, frustration, and yes, more sadness stake claim to all the bumpers I bounce off of.
Sometimes I chastise myself for being too weepy or too emotional, but stoic is not what we need to be right now. Honest and authentic is a much safer path for navigating the months ahead. When we try to swallow or push down our emotions, or hide them under the rug, we create kinks in our armor. Instead, honor your feelings and emotions and recognize them for what they are. Then move on.
I had to remind myself of that today when the tears came. "Shout out to the hardest working facilities crew out there!" the item from my kids' school newsletter read. It was accompanied by a photo of one of the school's janitorial crew as they prepared to start their cleaning shift in a white hooded hazmat suit and full respirator. I lost it. I'm not sure why. The reality of the image, the loss of normalcy, the repercussions for my children, the stakes.
So I cried . . . but not as long as I cried in April.
I think I'm building resiliency.
(Remember that if you need support during this time, reach out. Don't wait. Support systems are out there. Scroll to the resources below or click here to find an agency to help.)
Commit to Self-Care
With months of pandemic behind us, it's easy to start forgetting about the importance of your own self-care. So many were so diligent in April and May, but have now let COVID exhaustion derail their new self-care routines. Now is not the time to start cutting corners. Instead, use this time to build up your self-care bench.
Did you begin that meditation practice you've been promising yourself to try? Did you buy a new stationary bike that's been collecting cobwebs for a few months? Did those new hiking shoes you bought in June ever make it out of the closet?
Don't shame yourself for it . . . reclaim it. And if those things didn't work as part of your self-care routine, find the things that do.
As part of this self-care reclamation process, remember to replenish your spirit too—do something that fills your heart. Create something.
From cooking a meal from scratch to mixing a beautiful blend of essential oils, the creative process is an important fuel for the light inside us . . . our spirit wants to create. The arts are what immediately come to mind when we think of the creative piece of our spirit, but think of all the myriad ways you can create. Develop a new massage protocol you can perfect for your return to practice, play with the branding and imagery of a new marketing campaign and how you want the world to know about your work, set your personal and professional goals for the five years ahead. All of these require the same aspects of your creativity as does picking up the paint brush. And when it comes to fueling the spirit, add to your list: learn, play, laugh, sing.
We all know that we will have challenging days ahead. Being prepared for those days can make all the difference. If you're struggling, let people know what you need. If you can help someone else, do so. Honor the pain and the frustrations of this moment, but find moments of gratitude in these days as well.
I may cry at the picture of a school janitor in hazmat gear, but I'm so grateful for her and the work she is doing. And I'm OK that that picture makes me cry. And I'm OK that there are still tears to shed. I am grateful and I am hopeful. Find the thing that lets you say the same.
Now, I'm off to dust the cobwebs from my treadmill.
US Dept. of Health and Human Services—Disaster Distress Helpline
Crisis counseling and support to people experiencing emotional distress related to natural or human-caused disasters; 24/7, 365-day-a-year support: 800-985-5990
United Way COVID Response
If you need assistance finding food, paying housing bills, or other essential services, this tool will connect you with local resources, or you can speak with someone who can help.
National Alliance on Mental Illness
800-950-6264
National Suicide Prevention Lifeline
800-273-8255
National Domestic Violence Hotline
800-799-7233 (English) | 800-787-3224 (En Español)
Substance Abuse and Mental Health Services Administration
National Drug and Alcohol Treatment Referral Routing Service
800-662-HELP
Alcoholics Anonymous
Online meetings resource
Tech Together
A variety of online resources for those in drug and alcohol recovery, and their families.
Anxiety and Depression Association of America
Countless, quality mental health resources for individuals, families, and children
Centers for Disease Control and Prevention
"Stress and Coping"