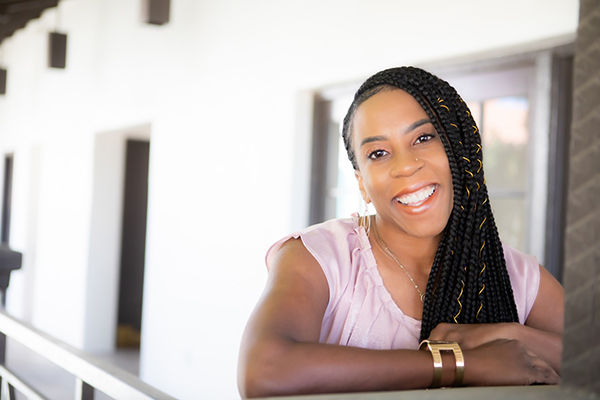 Davonna Willis was featured in the May/June 2023 issue of Massage & Bodywork magazine in "The Faces of Bodywork." Here's more about the career path that has led to her becoming a CE provider and a community-builder among Black massage therapists.
Willis is the owner of 4 Nineteen Education & Training. She holds a masters degree in health education and she created the Black Massage Therapist Conference, which will debut October 14, 2023. She has more than 20 years of experience in the field of health and wellness.
Massage & Bodywork: How long have you been in practice?
Davonna Willis: I have over 20 years of experience in the field of health and wellness. I founded and owned Blue Skyes Massage and Wellness Center and ran the business for 10 years before selling my client list. 4 Nineteen Education & Training officially started in October 2019 with the first class being in March 2020, right before the industry was shut down due to COVID.
M&B: Tell us about 4 Nineteen Education & Training. How did you get into teaching?
DW: 4 Nineteen Education & Training is a nationally accredited CEU school for certified athletic trainers and licensed massage therapists through the Board of Certification for the Athletic Trainer (BOCATC) and the National Certification Board for Therapeutic Massage & Bodywork (NCBTMB). I facilitate a variety of massage curricula and consult on marketing and strategy for new wellness business enterprises. We would like to be known as one of the premier continuing education and business coaching companies among athletic trainers and massage therapists.
With my masters degree (from Columbia University's Teachers College) in health education, I always had a passion to educate individuals in my field. I taught some physical education classes at Columbia as part of my job as an athletic trainer. Years later, I taught for a year at Pima Medical Institute in their massage therapy program. It was then I realized that my knowledge and skill set is best suited in the continuing education space. Marsha Craven and her partner, Mary Ellen Brown, gave me the opportunity to develop a few classes and teach at the Healing Arts Connection in Phoenix for a few years.
To best suit my schedule, I decided to become my own CE provider, so I founded 4 Nineteen Education & Training because I'm committed to the development of my colleagues and students and for them to continue with the health and recovery of their clients, athletes, and patients. I'm an advocate in elevating the way massage is perceived in society so people fully recognize the power of healing in an expert's human touch. 4 Nineteen is starting to grow. We're adding new instructors this year that will teach business, body contouring, prenatal, and Thai massage.
M&B: You are the administrator for the Black Massage Therapist Connection on Facebook. Can you tell us a little bit about this group and your role in that?
DW: I started a Black massage therapist Facebook group in June 2020 during the time of George Floyd and the social unrest we had in this country. This group was conceptualized and developed because I was feeling uneasy as a Black massage therapist in a predominantly White community. I noticed there was a void in this space, and I had some concerns and thoughts as a Black massage therapist and business owner. The majority of my clientele was White (but empathetic). However, for a while I was known in the Gilbert, Arizona, community as the "Black massage therapist."
As the Black Massage Therapist Connection group started to grow, I realized I wasn't the only one that felt this way and the gratitude I have received since starting this group is heartwarming. I also noticed the massage therapists that are business owners in the group lacked business knowledge and capital to run a successful practice. The therapists who didn't have their own business sometimes felt ostracized at their place of employment or disrespected by their clients. And some of the students in the group felt alone or overlooked in their schools because they may be one Black massage student out of 10 White students in their class. Currently, the group has 896 members and counting.
M&B: Tell us more about the Black Massage Therapist Conference happening in October. Was this your brainchild?
DW: To go off what was stated about the Facebook group, it was apparent that it was an outcry of many issues. Also, I would see "we need to get together" many times over the last 21/2 years. After much prayer, speaking with my family, and then speaking with Ashley Urquhart from MT Banquets, I decided that having a Black Massage Therapist Conference would be a great idea to get us together. As the inaugural Black Massage Therapist Conference, we are starting with a power-packed one-day conference. Some things we are providing for therapists' needs are:
Business grants for three Black massage therapists' businesses that have been in business for 0–3 years
Student grants for three students who have recently completed their massage therapy program (the grant will pay for the study guide, practice test, and MBLEx)
Swag bags
Business and ethics CE class
Hands-on CE class
M&B: You obviously have a lot on your plate. What do you like to do for fun or to relax?
DW: Pilates, I'm part of a 40-plus Double Dutch group, and hang out with my family.
For more about Willis, check out the May/June issue of Massage & Bodywork. For information about the Black Massage Therapists Conference, go to 4nineteeneducation.com/black-lmt-conference. To learn more about the CE classes and trainings she provides, visit 4nineteeneducation.com.