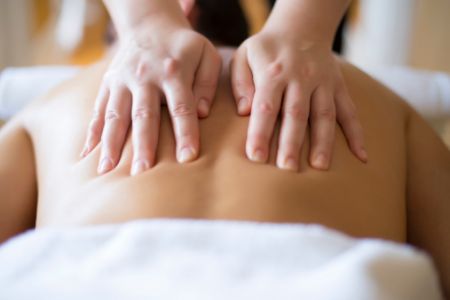 This is an excerpt from "Do Deep Pressure (Using the Least Amount of Effort)" in the September/October 2017 issue of Massage & Bodywork magazine, sent to ABMP members as a benefit of membership. Read the full article online at www.massageandbodyworkdigital.com.
Sometimes you just have too many clients in one day. And sometimes the last client wants deep pressure. Here are some survival tips based on the countless massages I've delivered to Ramit.
GO TO THE MOST ACCESSIBLE "IN-NEED-OF-PAIN-RELIEF" SPOT FIRST.
Ramit's upper back is rock-solid. It's usually number one on his complaint list. By going to that area first and delivering the deep pressure he likes, I get him to relax. And this sets me up for tip number two.
DIAL BACK DEEP PRESSURE IN AREAS THAT AREN'T OF PRIMARY IMPORTANCE.
For someone who likes deep pressure, do you need to be at that crazy high level all the time? In general, the answer is no. But make sure you deliver the deep pressure in the client's primary areas of concern. With Ramit, once I address his upper back (a primary area) with deep pressure, I can lessen the pressure to some degree in the nonprimary areas. However, when I go back to a primary area, I notch it up again.
ALTERNATE BETWEEN PRECISE DEEP PRESSURE AND BROAD DEEP PRESSURE.
If I spent an hour gliding up and down Ramit's back with deep pressure, I would die—or something would fall off my body. The same is true if I worked his levator scapulae for the whole massage. By going back and forth between precise deep pressure and broad deep pressure, I'm not constantly taxing the same muscles and joints.
IF YOU FIND A GOOD POSITION FOR YOUR BODY WHEN APPLYING DEEP PRESSURE, STAY THERE.
Unfortunately, you can't stop a massage and take a break. Instead, you have to find ways to give taxed muscles a rest while you're doing the massage. If I'm applying deep pressure down Ramit's spinal erectors with my fists and I get to his lumbar region and find that it's easy to lean into that area, I'll pause there. The deep pressure feels good to him, and less strain on my body feels good to me. It's a win-win.