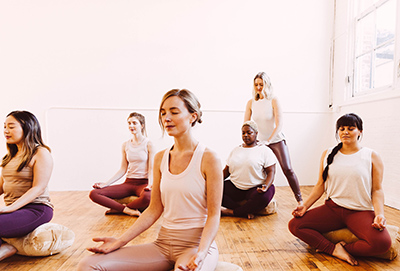 The following blog post is sponsored by Yomassage.
How did Yomassage get its start?
Yomassage creators Katherine Parker and Tiffany Ryan first crossed paths when Ryan approached Parker about teaching at My Yoga Room, her yoga studio in Portland, Oregon. Ryan had recently moved to Oregon after completing her massage and yoga training in Costa Rica, and she was looking for a job. Although Parker didn't have any open positions, the women shared similar backgrounds.The two began discussing the importance of massage and therapeutic touch. A new idea formed—merging the gentlest aspects of the yoga tradition with the healing science of touch. As the popularity of the class grew, it became apparent to the women that they were onto something, prompting them to create Yomassage.
Yomassage was originally intended to be an accessible way to receive massage on a regular basis, since it was less expensive than a one-on-one massage therapy session, but it turned into something more. Yomassage began appealing to all kinds of clientele, including those who had never experienced traditional massage.
What sets Yomassage apart from other continuing education providers? Why should therapists take your courses?
Yomassage is one new option that combines stretching and mindfulness with touch and can open the door to new clientele. The group environment allows the price point to become affordable for the client, while also allowing the therapist to earn more money in less time than a traditional one-on-one session.
What are the biggest things you see lacking in massage therapy and bodywork today?
While massage has multiple uses—to deal with structural issues, pain, and even mental health, Yomassage has focused its service on those who need time and space to connect with their bodies and allow their minds a chance to rest and restore. Yomassage is passionate about creating opportunities for people who aren't normally regular massage clients to experience the benefits of therapeutic touch in a community setting. Currently, there isn't any other way to provide therapeutic touch at an affordable price point to allow for more frequent bodywork and create community at the same time!
What does a Yomassage class entail?
A typical Yomassage class is held in a warm, dark, candle-lit room. With essential oils diffusing, spa music playing—where mats and props are laid out and ready for participants—the class begins with a focus on the breath, bringing clients into the present moment. The Yomassage therapist then leads clients into their first restorative position, making sure they are completely comfortable before beginning the massage. Once massage begins, the therapist gives each client approximately 90 seconds of massage in each position. Massage balls are then offered for guided self-massage for about 5–10 minutes of each class. Class ends with a hot towel on the feet after a foot massage, or may end with a warm flax pillow behind the neck after a head and neck massage. Either way, by the end of class, clients experience a head-to-toe massage.