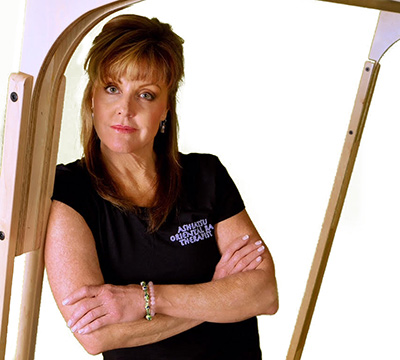 Ruthie Hardee, Founder, Ashiatsu DeepFeet Bar Therapy
The following blog post is sponsored by Ashiatsu DeepFeet Bar Therapy.
What inspired you to create this modality?
A few years into practicing massage, my wrists, fingers, and low back were beginning to take on regular pain, which became debilitating enough to start thinking about changing careers. The problem was, the majority of my clients wanted intensely deep pressure that my petite frame couldn't continue to deliver. I had my lightbulb moment at the end of a very long massage day, while working on my last client of the day who wanted particularly deep work. I wanted so badly to stand on this client and use my body weight. Out of curiosity, I looked up overhead and noticed lattice grids I could grab onto, and I went for it!
It was then and there that I first traded hands and arms for feet and legs, and the results were really remarkable for both the client and myself. I decided to pursue this idea in the hope that other therapists would avoid falling victim to injury or overuse the way I did. In creating this modality, the goal was to provide a safe, corrective, and therapeutic barefoot concept available to therapists who wanted more options and tools for delivering deep-tissue techniques that wouldn't cause discomfort to themselves while performing them.
How has Ashiatsu evolved since you first started DeepFeet?
I started DeepFeet back in 1995, and our curriculum has been perfecting barefoot, gravity-assisted techniques ever since. We understand that bodyworkers come in all shapes and sizes, and the modality has evolved into offering a broader, more comprehensive approach to fit everyone's fitness abilities. It has been a pleasure to train over 6,000 professionals in our field, and now, by offering an all-encompassing e-learning experience, we will be able to reach even more therapists from other parts of the world who want to learn this amazing modality.
At 61 years old, and after more than 25 years of running DeepFeet Bar Therapy, I am passing the torch to my passionate instructor team, led by Nancy DeLong, to carry on my legacy and keep evolving the modality.
Why would a therapist want to take your course?
Ashiatsu is a specialized treatment that is highly sought after due to its therapeutic benefits and industry reputation. Our course is ideal for therapists seeking to reinvent themselves or add new tools to their current repertoire. We seem to attract a large number of therapists who are physically burned out and searching for new ways to extend the length of their massage careers.
Which course should a therapist take, e-learning or live?
That depends on the student and their learning preferences. Live classes involve detailed instruction in a 2–3-day immersive course where students will learn for 8 hours a day in a classroom-style setting. The e-learning platform allows students to study at their own pace from the comfort of their own homes. Live classes are a hands-on experience, while e-learning allows the student much more time to absorb the information being taught. Both allow for one-on-one student/teacher time, as there are options to Skype an instructor and/or submit performance videos for review and feedback in our e-learning program.
Ruthie Hardee is founder of Ashiatsu DeepFeet Bar Therapy.