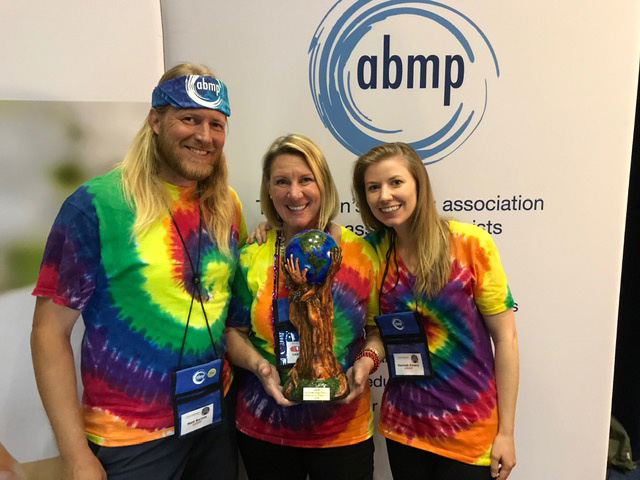 ABMP's Matt Barnes, Leslie Young, and Hannah Emery with the WMF 2019 Association of the Year Award
Associated Bodywork & Massage Professionals (ABMP) was honored at the 2019 World Massage Festival with the Association of the Year Award in recognition of ABMP's continued contributions to the massage therapy profession.
ABMP Vice President of Communication and Professional Outreach Leslie Young, PhD, accepted the award on behalf of ABMP at the festival, which took place May 6–9, 2019, in Las Vegas.
"We are so honored to accept this award on behalf of our members and staff," Young says. "We have a treasured, long-term relationship with Mike Hinkle and Cindy Michaels, cofounders of the World Massage Festival. Together we are dedicated to creating community and helping practitioners be successful—whatever that means to them."
Allissa Haines and Michael Reynolds of Massage Business Blueprint were also at the festival, and recorded two podcast episodes from the ABMP booth on the exhibit floor. Haines and Reynolds asked festival attendees "What's your best advice for new massage & bodywork graduates?" and "What's your biggest business and marketing challenge in your massage practice?" Listen to these episodes or subscribe to the podcast at www.massagebusinessblueprint.com/podcast or on any podcast app you use.
Bonus! ABMP Certified members save with Massage Business Blueprint! To learn more, visit www.abmp.com/updates/benefits/abmp-certified-member-discount-massage-business-blueprint.