Fascial Anatomy: How Microscopic Images of Fascia Inform our Understanding
Course Date/Time: Monday, March 21, 2022, 11:30 a.m. – 12:30 p.m. MDT (Live Q&A 12:45 p.m. – 1:00 p.m.)
Course Description: Learn to identify the different types of fascia and their qualities by viewing images of fascia under the microscope. Join fascia expert Gil Hedley for this in-depth course on the anatomy of the fascial layers: skin, superficial fascia, perifascia, and deep fascia. Magnified dissection images and videos show each layer's organizational structure and its role in connection and movement. Note: This course contains still images and videos from human dissections.
CE Hours: 1
Instructor Bio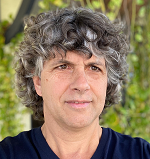 ABMP CE Summit Event information
Connect and engage with your massage and bodywork community and experts in the field as you learn and earn CE! This online conference focuses on fascia and takes learners on a journey from understanding fascia—what it looks like, its role in the body, and different types—to working with it using multiple modalities and techniques. Don't miss this opportunity to interact with the course instructors and connect with your massage and bodywork community as you learn about fascia! This event—including 4 hours of CE—is free for everyone in the profession!