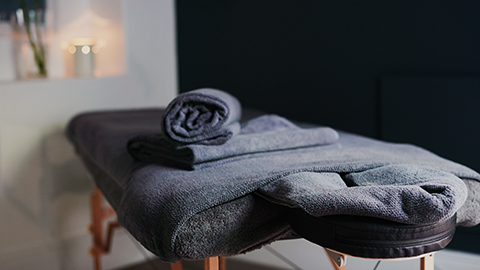 In this episode of The ABMP Podcast, Kristin and Darren sit down with Michelle Roos to discuss mobile massage, safety protocols when traveling, marketing and networking techniques, and how to set up travel parameters for efficient booking.
Sponsors:
This podcast sponsored by:   
Anatomy Trains:
Anatomy Trains is a global leader in online anatomy education and also provides in-classroom certification programs for structural integration in the US, Canada, Australia, Europe, Japan, and China, as well as fresh-tissue cadaver dissection labs and weekend courses. The work of Anatomy Trains originated with founder Tom Myers, who mapped the human body into 13 myofascial meridians in his original book, currently in its fourth edition and translated into 12 languages. The principles of Anatomy Trains are used by osteopaths, physical therapists, bodyworkers, massage therapists, personal trainers, yoga, Pilates, Gyrotonics, and other body-minded manual therapists and movement professionals. Anatomy Trains inspires these practitioners to work with holistic anatomy in treating system-wide patterns to provide improved client outcomes in terms of structure and function.    
Website: anatomytrains.com                     
Email: info@anatomytrains.com                      
Facebook: facebook.com/AnatomyTrains                     
Instagram: instagram.com/anatomytrainsofficial
YouTube: youtube.com/channel/UC2g6TOEFrX4b-CigknssKHA  
 Universal Companies:
Universal Companies has everything the spa professional needs for success, including massage tables and accessories, linens, tools, pain relief products like arnica, and a range of lotions, oils, and gels. The products we offer help the independent practitioner save on their everyday expenses, as well as provide the convenience of shopping across broad categories.
Recognized as the "Favorite Distributor" in the American Spa Professional's Choice Awards for the past 17 years, we see this as a continuous challenge to provide the best products that pros trust the most.
Beyond our extensive selection of spa products, equipment, and tools, we have an education and marketing site for our customers to develop their skills and promote their business. The UCo Learning Network offers CEU courses, marketing kits, and business tools.
Website: universalcompanies.com
Facebook: facebook.com/universalcompaniesinc
Instagram: instagram.com/universalcos
Twitter: twitter.com/Universalcos
Pinterest: pinterest.com/universalcos/_shop
LinkedIn: linkedin.com/company/universal-companies/mycompany
Dr. Ida Rolf Institute:
The Dr. Ida Rolf Institute® (DIRI) is a global leader in optimizing human structure and function through our proprietary method of Rolfing® Structural Integration. It is our mission to provide high quality education and promote research to advance Rolfing® Structural Integration and Rolf Movement® Integration, visioning a world in which this is an integral part of health and well-being. DIRI is the only school worldwide that trains Rolfers® and Rolf Movement® Practitioners, and certified Rolfers are the only professionals who can provide Rolfing Structural Integration to the public. To learn more, please visit rolf.org or call (303) 449-5903.
Website: rolf.org
Phone: 303-449-5903
Handspring Publishing:
Handspring Publishing specializes in professional-level books for massage therapists, osteopaths, yoga and Pilates teachers, physiotherapists, and other professionals who use touch or movement to help patients achieve wellness. Handspring Publishing's books are written and produced to serve the professional and educational needs of health and medical professionals, musculoskeletal therapists, and movement teachers. Its list includes bestsellers like Fascial Stretch Therapy by Chris and Ann Frederick, Fascia: What It Is and Why It Matters by David Lesondak, Pre- and Perinatal Massage Therapy: Third Edition by Carole Osborne, Michele Kolakowski, and David M. Lobenstine, and the recently published Oncology Massage: An Integrative Approach to Cancer Care by Janet Penny and Rebecca Sturgeon. Handspring's books combine attractive and accessible presentations with an evidence-based approach to writing, including referencing the latest research findings. Authors are drawn from the ranks of highly respected teachers and experts in their area of specialization, including Jim McCormick, Til Luchau, Robert Schleip, Graham Scarr, Gayle MacDonald, and Carolyn Tague, among others. ABMP members save 20% on regular list prices. Visit handspringpublishing.com and use discount code abmp20 to order. Shipping is free to all addresses in the United States and the United Kingdom.
Website: handspringpublishing.com
Email: info@handspringpublishing.com
Instagram: instagram.com/handspringpublishing
Twitter: twitter.com/HandspringLtd
Facebook: facebook.com/handspringpublishing
Full Transcript:
0:00:00.6 Kristin Coverly: ABMP members get 20% off the list price on all hand spring publishing titles, including the accidental business owner, A Friendly Guide to Success for Health and Wellness Practitioners, by Kelly Bowers. Visit handspringpublishing.com to learn about other books to grow your practice. ABMP members visit abmp.com/discounts to access your discount code to save 20% on all list prices with free shipping to US and UK addresses, find your next favorite book at handspringpublishing.com.
0:00:40.0 Darren Buford: What better time to reflect on your career and future than now? The Dr. Ida Rolf Institute based in Boulder, Colorado, with training centers around the world, offers the highest quality education and training for body workers looking to become rolfers, you can have a rewarding career, helping people feel better and move more fluidly in their bodies. A career in rolfing pays more and allows maximum flexibility and freedom. Be Your Own Boss, help people, build your career. Call The Dr. Ida Rolf Institute today at 303-449-5903, or visit rolf.org to get started.
[music]
0:01:28.9 DB: I'm Darren Buford.
0:01:29.5 KC: And I'm Kristin Coverly.
0:01:31.3 DB: And welcome to The ABMP Podcast. A podcast where we speak with a massage and bodywork professional. Our guest today is Michelle Roos. Michelle is a board-certified and licensed Massage Therapist, an author, educator and business owner in South Florida. Michelle co-owns Cupping Canada and Cupping USA with her husband, Paul Kohlmeier. As a professional massage therapist, Michelle has had the experience of working in a multitude of settings, including hospitals with Chiropractors and physical therapists, at five-star resorts and spas, as well as in VIP areas at sporting events, trade shows and health fairs, on yachts, for corporate offices, and while on tour and backstage with many musicians. Michelle is the creator of Mobile Massage Mastery. This course was designed for those who want to start their massage career as a mobile massage therapist, or transition into a mobile massage therapist from a brick and mortar location. For more information, visit, mobilemassagemastery.com. Hello, Michelle. Hello, Kristin.
0:02:29.5 Michelle Roos: Hi everyone, thanks for having me.
0:02:30.5 KC: Thanks so much for being with us, Michelle, we have so much to talk about today, let's start though with a few introductory questions, so obviously from Darren's intro, our topic today is Mobile Massage. Let's start by making sure that all of our listeners, we're all in the same page, what is mobile massage to you? And then tell us a little bit about how you got started really focusing on that as your main aspect for your practice.
0:02:54.8 MR: So mobile massage is the delivery of on-site massage therapy at the client's preferred location. It could be at a home, an office, it could be on a yacht, for instance, I was just working the Fort Lauderdale Boat Show on a super yacht, backstage at concerts, it could be at a corporate office or a CrossFit event, it's endless, of where Mobile message will take you. I have been doing massage for almost 22 years, and I actually started my career doing Mobile Massage, I lived in Kentucky, I went to a massage school in Kentucky, and I knew a gentleman who lived in South Florida who was a massage therapist. One of my friends had referred me to him, so I had started talking to him.
0:03:36.3 MR: I used to teach pre-school, and when I realized I could do massage and make a lot more money, I quickly switched and moved to South Florida. He contracted out with some of the Marriott locations, so we would do chair massage out by the pool and then go to the suits and do massages in the rooms. And while I was working for him, I slowly started building my own mobile massage practice with... Through friends and people that I met and started networking with everyone to build my clientele list.
0:04:06.3 KC: I love it. Two follow-up questions, do you do chair massage and table massage in a mobile massage practice? And also, have you ever had a brick and mortar? Or only mobile massage from day one?
0:04:18.2 MR: I do chair massage and table massage, it is the client's preference, I work at a lot of corporate offices that they will request chair massage, a lot of the backstage events that I do, sometimes they would rather have chair massage if there's a smaller space backstage. For most of my clients though, it is table massage, I'm usually doing anywhere from an hour or two, a two or three-hour session when I go to their homes or hotels, wherever they may be. I've never had a brick and mortar location. I have several people that I rent rooms from, if I have a client that I'm not so sure about, or if someone wants to get out of their home because they have kids, or pets and it's not the ideal location for them to receive massage, so I network with another massage therapist, and a chiropractor, and they actually are 30 minutes away from each other, so that way I can see clients in those specific areas. And they don't have to drive that far. I do offer that to clients as well, who are far from my location. If someone is more than a 20 or 30-minute drive, I say, you know, "There's gonna be an additional trip charge because you're outside of my area, but I do have two locations that you can come to to be at the normal rate." And then I just pay $20 an hour to rent the room, and then I increase my pricing by that much to cover the price.
0:05:32.4 DB: Michelle, let's talk about the parameters of setting up Mobile Massage with gas being expensive, you've kind of addressed that already a little bit, how do you factor that into pricing, and what about wear and tear on your vehicle?
0:05:44.9 MR: So for the gas and the wear and tear, I honestly don't think about it too much. It's a business write off for me. So, you know, I've seen people online complaining about, "What are you doing? Gas prices are going up." They can decide to increase their rate when prices go up for gas, or they can decide to decrease their rate if prices go down. For me, like I said, I have a base price. It's $120-an-hour. And that's within 15 miles of my location. 15-20 minutes actually, sometimes 15 miles might be 30 minutes depending on where you're going here in South Florida, so I always check the location of where the potential client lives to see if I have anything already booked in their area, and then I will schedule them before or after, those are the first times that I will give them as an option. And if that does not work for them, then I will give them a couple of more options that I can come to their area that is convenient for me as well for them, because I don't wanna be driving all over the place, so I try to be very efficient with my time, and schedule the same people that live in the same areas on the same days.
0:06:49.2 KC: Okay, that leads to so many more questions. My massage therapist logistical brain is on overload firing, firing, and firing. So, I'm so curious. How did you come up with your mile radius? Or is it certain cities that you go to? Was it trial and error? Did you over-extend and then realize, "Whoa, dial it back... " Tell us about that process.
0:07:08.1 MR: Oh yes, so when I first started, I would drive anywhere, I didn't care where I was going. I charged a very low rate, I think I started at $60-an-hour. I was being paid $50-an-hour for the person that I worked for, so I just tried to do $10 more than what I was getting paid with him, and it was definitely a mistake because I was driving an hour sometimes each way to go do an hour massage and only being paid $60 for those three hours. So I quickly realized that I need to increase my pricing and also include a trip charge and decide a specific radius that I'm going to drive, so I'm not spending all my time in the car. My massage time is worth more than my drive time. So I just decided, you know, 15 miles is around 15-20 minutes depending on where you're going, and to me, I'm okay with spending that 30-45 minutes of driving, doing the hour of massage and then setting my rate at what it is.
0:08:13.0 KC: Okay, another question. So let's talk scheduling. How much time do you build in for set up and break down in addition to the driving? And then are you able to use online scheduling? Or is that just too complicated and people need to schedule with you either by text or phone?
0:08:27.2 MR: So for me, I've been doing this for almost 22 years, so I can set my table up or break it down in less than five minutes, I will disinfect the table in front of the client before and after the session, just so they see that my cleaning protocols are what they should be. I often have clients ask me if my sheets are clean, and I'm thinking, "Why are they asking me this? Did someone show up with dirty sheets?" So me, I am very quick and efficient. And that's what I tell all my students or those that are mentor, that you need to practice setting up and breaking down. I have heard of some therapists, they will arrive 15 to 20 minutes early to set up, and then they're there just as long breaking down, and that's an extra 30 to 45 minutes that that client probably did not plan for, so I always suggest set up, break down as many times as you need to until you're comfortable doing this, and that you can do it in around five minutes.
0:09:21.7 MR: Online scheduling. I do not offer it, I have never offered it. To me, I want to actually talk to each person that gets on my schedule. I want to first make sure they are my ideal client, that they are not looking for anything extra, and that they are in an area that I wanna drive to. So for me, the first question that I ask someone is, "How did you find me?" You know. Did someone refer them? Were they just looking on Google? Did the CrossFit gym refer me? Because there's so many people that I network, I really wanna know who they came from, so that way I can go back to that referral to talk to them, to see how they know this person, and if they are the ideal client for me. The same thing with scheduling, there's not really any online systems that I know of that will look at where the previous client is scheduled and their location, and then only allow the person that's about to schedule, offer them appointments that are on that day, or on that time, so you just kind of have an open schedule and someone could schedule with me in Miami, which is an hour from my house, and then the next persons could schedule in West Palm Beach, which would take me over an hour and a half.
0:10:35.4 MR: So that creates way too much driving and downtime, so I, again, I wanna talk to them and I always offer them the appointments that are convenient for me, first. I might say, you know, "What days and times work better for you? I can check my schedule to see when I can make it to your area." And then I always go to see, "Oh, I have Johnny in his neighborhood at this day in this time, and I'll always offer him the appointment that's right before or right after." So that way, sometimes I'm just driving five or 10 minutes from one client to the next.
0:11:06.0 DB: Michelle let me do a little follow-up there with regards to traffic and driving. How much time might you build in with regards to traffic, the area, and how many expected massages you could give in a day, also because of the travel time too? Or how many are you willing to give in a day? Factoring in that additional part of your travel time and job.
0:11:26.2 MR: So I work a bit more than most people. Some people would probably hate my schedule. I do anywhere from six to eight hours a day, almost five days a week, sometimes six days a week. It's very hard for me to say no. My husband lives in another country, so we're not together often, and we both are workaholics and work all the time, and with that six to eight hours of hands-on, I'm doing two to three hours of driving. For me, like I said, I always look to see who is before or after them, I might have... I literally have three people in the same neighborhood, and I try to book them on the same day, so I'll see one person from five to six, and I say, "Hey, I'll be over to you at 6:05 to 6:10." I do 50-minute hands-on. This is stated on my website, I use the other 10 minutes for disinfection, two times for intake assessment, reassessing, booking, and follow-up, re-scheduling, all that stuff.
0:12:20.1 MR: So I... Some people don't like the whole 50 minute, but that's really what I have done my entire career, and I do not have any complaints, I try to be in and out of that house within an hour to an hour and five minutes. So if someone is close I can be to the next person 10 or 15 minutes. And I usually will tell, especially my clients that I see, I have a lot of people I see same day, same time every week. And they kind of know that I'm flexible, like, "Hey, I'm leaving this house, I'm done here at 3:15, I should be there around 3:20, 3:30, I'll send you a text when I'm on the way and give you the exact ETA. So it's about communication. I just always keep in communication with my clients, especially if I'm running late, because you never know if someone has an appointment they have to be to, or they have a baby sitter, or whatever it may be. Sometimes they might say, "Oh, you're gonna be 15 minutes late? Then we will just reschedule."
0:13:14.3 DB: Michelle, have you ever had a situation where a traffic jam, or an accident caused... Like a ripple effect in your day?
0:13:20.6 MR: Oh yes, several times.
[laughter]
0:13:24.5 MR: And I've been doing this for so long, so for me, I don't really take many new clients, because my schedule just doesn't allow for it. I have, like I said, same people, same day, same time every week. Sometimes they're traveling and I can fit new people in. I... Yeah, I mean, theirs were in South Florida. So traffic and accidents, people don't drive very well down here often, so... Yes. And I just, when I can, I will, while I'm at one house, I'll text the next person, say, "Hey, I was stuck in a traffic jam and I'm 15-30 minutes behind. Does this work for you? If not, we'll re-schedule." And most of my people are okay with it.
0:14:03.4 DB: Let's take a short break to hear a word from our sponsors. Anatomy Trains is delighted to announce a brand new dissection live stream specialty class in September 18th, LumboPelvic Stability; A One-Day Layered Dissection with Anatomy Trains author, Tom Myers and master dissector, Todd Garcia. The early bird price of $150 is held until September 10th. After September 10th, the price is $250. Come see the body's actual core for yourself. This course will be provided over Zoom webinar with multiple camera views, live chat, and Q&A. Visit anatomytrains.com to sign up.
0:14:40.0 KC: Universal companies is the massage practitioner's best friend. Our pro-tested products include: Lotions, linens and tools, plus education, and marketing resources. Voted best distributor for the past 17 years by spa professionals, you can count on us. ABMP podcast listeners save 10% on select brands of products when you place a minimum $99 order at universalcompanies.com/abmp.
0:15:12.7 DB: Now, let's get back to the podcast.
0:15:14.3 KC: Michelle's so curious, talking about... I'm amazed, first of all, that you can get your table up sanitized in five minutes, I would definitely be one of those 15 to 20 minute people trying to establish my environment and make it... You know what I mean? Like, I'd really have to learn. Like you said, practice.
0:15:28.7 MR: Yes.
0:15:29.9 KC: I'm so curious. Where is the most interesting place, someone has said, "Here you go, here's your place to set up for our massage session?"
0:15:38.7 MR: I mean, interesting, the place that I was just on at the Fort Lauderdale Boat Show, I was on a superyacht, I think it's the 1100th largest superyacht, that there is. So that was really awesome. I mean... They had their own massage table and everything, I just literally had to show up and they wanted massages for five days in a row, for two hours every day. I have been in a home and was asked to set up in the bathroom.
[chuckle]
0:16:04.9 MR: It was a rather large bathroom, but it's not my ideal location of where I wanna set up, but it was what the client wanted, so that's where I set up. I've been asked to set up outside, I was overlooking a nature preserve in their backyard, and while it was great in the morning, when the sun started to come out, it became very, very hot, so luckily, I plan ahead and I always have a bag of clothes in my car, so I have a tank top and shorts that I will wear if I'm outside. Usually if I'm working inside, I'm wearing the black polo shirt like I have on now and black scrub type pants, but I have a change of clothes, the tank top and shorts, I also have the regular clothes I would wear inside, and then I have stuff, like, if I were gonna go to the beach, or out to dinner, or... [chuckle] You know something else. So I try to be prepared for all scenarios that may arrive, but yeah, I was definitely very sweaty after that. I'm used to working outside though, 'cause like I said, when I first moved to Florida, we were working at the resorts, and doing chair massage out by the pool, and it's 100 degrees, and we have a tent with a fan, but it's still very, very hot.
0:17:14.8 KC: Yeah. I'm curious if there's a listener thinking like, "Hmm, this might be for me." Thinking about giving them a little heads up, do you tell clients like, "Here's the space that I need. I need x number of feet by x number of feet... " so they... Because often what I find when I go even to do chair massage, is they give you this much smaller space than you actually need.
0:17:34.1 MR: Yes, I always tell the client that they need a space that is about 6 x 9 feet, or the size of a twin-size bed, because people underestimate how big a table is. I usually tell that when I'm booking and then remind them again whenever it's... Whenever I remind them that their appointment is the next day, or two days out. But I will still show up, and I've done massages in places where I had to put one side of the table all the way up against wall, so I couldn't even walk around. Another place, it was in between the bed and the closet, and in order to be on the other side, I had to slide open the glass, the mirror glass door for the closet and kind of stick my butt and massage while I'm half in the closet.
[chuckle]
0:18:21.3 MR: So, yes. But I always tell them to have the temperature set at a comfortable setting. I work in a lot of treatment... Rehab facilities as well, and when they're going through detox, they're either very hot or very cold, and I've had to go work on celebrities that were in rehab and the temperature in the room is about 82 degrees because they're freezing and there's nothing I can do about it, you know, I just... Massaging them the first time, I'm like, "Holy crap!" And then the next time they came back, I obviously knew I was gonna wear shorts and a tank top to this message, so.
0:18:52.0 DB: Let's circle back to a topic that you brought up, how do you ensure safety and establish a protocol and safety nets when you're doing Mobile Massage?
0:19:01.3 MR: So the first two questions that I ask is, how did you find me? And what type of massage are you looking for? The answers to these will often let me know if they are my ideal client or they're looking for something else. If a client did refer them, I will always go back to the existing client and ask how they knew this person. They usually will say, Oh, I played softball with them, or they go to my gym, and I realize that that person should be an Okay client. You still need to obviously be safe and finish your screening process because the person that referred them might not know their whole entire lifestyle. So it's always good to double check.
0:19:56.2 MR: After those two questions, I will ask for their full name, address, phone number, date of birth, and email address, and then I will do a Google search or a social media search, and I've actually found arrest records for convicted criminals for assault, so while some people might think that I'm stalking or wasting my time, I always like the extra layer of protection to know where I'm going. I also put the address in Google maps, in the images, so I can see if it's a house or if it's an office. I will also let my husband know. I tell those I mentor, my students, you should have a volunteer safety officer, and you would let this person know where you are at all times, they would have access to your schedule, they wouldn't have access to any health history information, they would just have the name, the phone number, and the address of where you're going.
0:20:38.1 MR: I usually send this to him the evening before. And then when I'm on the way to my client, I call and say, Hey, "I'm on the way. When I get there and I'm set up and I'm washing my hands in the bathroom, I'll send a text and say, 'I'm starting the massage now.'" I do the treatment when I'm finished and I'm in the car leaving, that's when I will check back in and say, "Hey, I'm finished, I'm heading to my next one." If I am with a client and they want to extend a session for another half an hour or they have a family member that wants to go, I always tell them I want to stop the session to text my volunteer safety officer to let them know that I'm not gonna be finished at the time that I told them, and it is gonna be a new end time, so that they're not worried about me.
0:21:18.9 KC: Okay, Michelle, you mentioned purchasing a lighter table so you save on a few pounds, five to seven, which like we said, really can add up over time. How else do you incorporate self-care into your everyday routine? I'm guessing... All of us as massage therapists need to think of our body mechanics and need to think of self-care, but with everything that you're setting up, carrying in and out of the car, in and out of their homes or offices, what else do you do in addition to what we might consider "regular" self-care?
0:21:52.4 MR: For me, I do hot yoga or hot heat or hot pilates almost every day, sometimes twice a day, if I have someone that cancels, so that's usually how I start my mornings. I love hot yoga, it's what keeps me sane and prepares me for the day. I get a three-hour massage at least every seven to 10 days, and the gentleman that I first started working for when I first moved to Florida 22 years ago, that's who massages me, so I actually just had one on Sunday. I do cupping on myself several times a week, I will strength-train with a trainer two to three times a week whenever I have time. I take epsom salt baths to relax. And I might have some tequila occasionally.
0:22:41.9 DB: [chuckle] Michelle, did you say you get a three-hour massage?
0:22:45.0 MR: Yes, I do.
0:22:45.8 DB: Wow.
0:22:47.9 MR: He drives up to me, it's about an hour and 10 minutes each way for him to drive to me, and because he loves me so much and I worked for him for a long time, he gives me a very great rate. So to me, it's just... We were doing two hours and then I felt like there was more that could be done, so we just decided to do three hours, yup.
0:23:07.4 DB: That sounds fantastic.
0:23:09.9 MR: It is. It is.
0:23:10.5 KC: I'm just hearing the collective sigh of jealousy from [laughter] listeners around the... [laughter]
0:23:13.8 DB: Yes, and in this room right now we're podcasting from. Michelle, have you had to adjust anything because of COVID, do you have any COVID protocols that MTs should practice when doing mobile massage?
0:23:30.2 MR: For me, I've always been very clean, disinfecting before and after, I've always done that. What I have done since COVID is, I do wear a mask, I still wear a mask and I will probably always wear a mask. I just... I can't believe that I didn't think to wear a mask before. You're in a room with someone, right on top of them for an hour to two or three hours, and it's just really in best practices, I feel, to wear a mask always. Before COVID, I had many people who would... I would go through their screening, how are you feeling? Do you feel okay today? Yeah, I feel great. And then 10 minutes into the session, they're like, "Oh yeah, I had a runny nose, my throat was hurting last night." and I'm like, "Oh my gosh, I asked you this and you didn't tell me." So I'm finding now, during COVID, that's not happening. My clients are very good. Even with headaches, I've had people say, "Hey, I have a headache. I don't think it's COVID, but let's reschedule." They get tested two days later, they tell me it was COVID. So me normally, before COVID, I would've said, "Oh you have a headache?"
0:24:30.6 MR: "Great, I'm coming over, I'll fix it." And so now, the slightest headache, sinus infection, I've had people tell me sinus issues, and it ended up being COVID. So normally, I would say, "Hey, let's do some facial cupping." So for me, wearing a mask, if I'm doing intra-oral work, I wear... And I also now wear an apron, like a chef's apron over my clothes, it's just a black apron, so that way my client's body parts will not touch my clothing. And then I change it between each person. When I'm going to someone's house, I have each set of linens in one bag with whatever tools that I'm using on them, so I'll take those sheets in, put dirty sheets back in that bag, and then I have a large laundry bag in my car that I throw that into. And then when I get home, I do all the laundry.
0:25:20.3 KC: Okay, let's talk marketing, Michelle. So how do you market a mobile massage practice? Is it same, same, but different from a table practice, totally different? Tell us all about it.
0:25:32.4 MR: I think when you market, you definitely wanna market to a specific area so that you are not driving all over the place. For me, it was networking with people that were near me, so I currently network with five personal trainers, two yoga studios, two chiropractors, three dentists, so throughout my career, I've just started networking with all these people, and a lot of them are bartered. Even my first dentist I had in South Florida, I traded massage with her for dental work. So she's referring a lot of clients to me with TMJD. So the personal trainers, I say, Hey, let me massage you. I do cupping and instrument assisted soft tissue mobilization, deep tissues, sports massage. So they love that, so they always try my service and then realize that I'm somewhat better than other therapists that they have experienced, so they have no problem referring their clients to me.
0:26:29.5 MR: There's trainers that I haven't even seen in probably three years, and I often, twice a month, will get referrals from them, just out of the blue, when I haven't even talked to this person. So and then I'll check in, and I was like, "Hey, thank you for referring this person to me, let me know when you want a massage." So I just say it's really all about networking, or will say that for social media and your website, you should have professional images only, and separate your personal and your business accounts. There's many people who, on their business page, you'll go and look and they're in a bikini or they're drinking, and that does not portray the image you want someone that's looking for a mobile massage to see, and get the wrong idea. I join a lot of local Mom and Dad Facebook groups, so it's whatever the name of your city is, Moms in that city.
0:27:24.6 MR: So I tell people just to search the name of their city to see what groups they can find. Since I'm in Florida, I'm in a lot of yatching groups, and there's always someone looking for a massage therapist to come on their yacht. So, whatever area you're in, search out those types of groups and what type of people that you want to deal with. I remember when I first started, I always wore a shirt that said, "Massage therapist" on the back, and so many people will come up and talk to you because this is on your shirt. It's incredible. So to me, that was very, very helpful in getting new clients. I also just approach people. I used to travel all the time to go to trade shows, and I would be in the airport. I would have my business card, I would have samples of a topical pain reliever, and if I see someone grabbing their neck, I go up and say, "Hey, you look like that you might have some neck pain."
0:28:15.0 MR: I'm a massage therapist, if you're ever in South Florida, here's one of my cards. And I even did this to the flight attendants, I was in first class and started talking to them and networked with all of them, they all got my cards, gave them samples and they may have sent me home with some champagne and snacks from the plane, and then several of them called me whenever they're in town, to come to their hotels to massage them. So it's all about just talking and getting out to people and stepping out of your box, especially if you are shy, just trying to talk to everyone that you can and let them know what you do.
0:28:50.7 DB: Michelle, you have given us 30 minutes of hardcore networking examples, and I hope all the massage therapists listening to this can take note just how you expanded your practice and your work just by communicating and connecting with more and more people. This was really cool and powerful.
0:29:09.9 MR: Thank you.
0:29:10.9 DB: I wanna thank our guest today, Michelle Roos. For more information about Michelle, visit mobilemassagemastery.com.
0:29:18.8 MR: And you can check out my Facebook group, Mobile Massage Mastery.
[music]
0:29:27.9 KC: Members are loving ABMP five-minute muscles and ABMP Pocket Pathology, two quick reference web apps included with ABMP membership. ABMP five-minute muscles delivers muscle-specific palpation and technique videos, plus origins, insertions and actions for the 83 muscles most commonly addressed by body workers. ABMP pocket pathology created in conjunction with Ruth Werner puts key information for nearly 200 common pathologies at your fingertips and provides the knowledge you need to help you make informed treatment decisions. Start learning today. ABMP members, log in at abmp.com and look for the links in the featured benefits section of your member homepage. Not a member? Learn about these exciting member benefits at abmp.com/more.