Massage & Bodywork January/February Prize Giveaway
Sponsored by Rebel Massage
It Pays to Be an ABMP Member!
Enter to win a Rebel Massage Functional Anatomy CE bundle and a four pack of professional grade bodywork butters, a $350 value.
As an ABMP member, you have access to more than 50 discounts with savings of up to 40%.
ABMP members always save 15% off orders of $75 or more with Rebel MT.
Limited time offer. Enter by January 22, 2024. One winner will be selected by January 25, 2024. Open to everyone in the profession. Enter to win now!
Description for the FA Bundle CE class: (Value $200)
This class was originally held as a webinar and is now offered as an online home study. Join Rebel Massage Instructor Allison Denney in a three part online workshop series focused on the lower leg and foot, the low back and hip, and the shoulder and the rotator cuff.

Uncover common and often misunderstood dysfunctions including:

Shin Splints
Plantar Fasciitis
QL Syndrome
Psoas Interventions
Rotator Cuff Injuries
Nerve Entrapment

The intricate function of human anatomy - the foundation of how we move and what moves us - is the premise of our work. Understanding DYSfunction is the next step to the success of your craft. Learn how to work in detail and with confidence.
Description of the Personal Pack: (Value $130)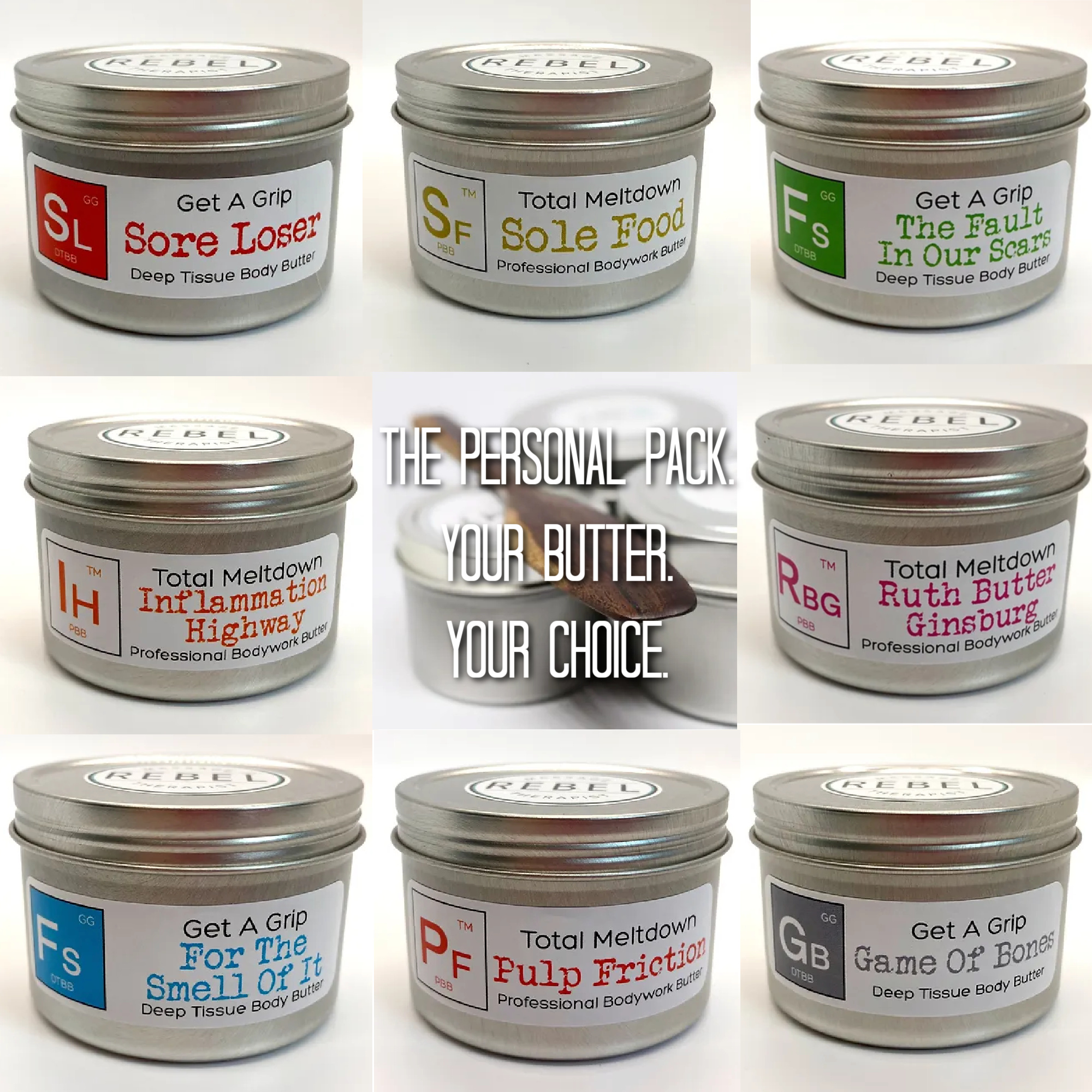 This four pack of Rebel Massage Professional Grade Bodywork Butters is catered to you! Mix and match the Melts and Grips, Scents and No Scents, for each of your 8 ounce tins. Plus — as an added bonus, you will get your own, eco–friendly, Rosewood Bodyworker's Spatula!
Description of the 2 ounce Panic Button: (Value $20)
Hand crafted in the Rebel Kitchen, this powerful salve penetrates deep muscle aches, tenacious trigger points and gripping tension like a boss. Harnessing the natural medicinal properties of Calendula and Arnica, and carefully invigorating the intensity with Menthol and Cayenne, the Panic Button is ready for action.
Total Value = $350