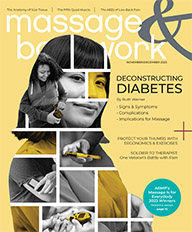 Massage & Bodywork magazine is a bimonthly journal for a national audience of massage, bodywork, and somatic professionals. Each issue of our award-winning massage magazine (included as part of ABMP membership, which also includes professional liability insurance) offers in-depth articles on subjects important to the practicing professional and the layperson. The latest research, historical perspectives, massage techniques, business information, professional trends, and a variety of regularly featured columns keep Massage & Bodywork readers in touch with their work, their clients, and their health.
ABMP members receive the print version of Massage & Bodywork six times per year, and the digital edition is available online at www.massageandbodyworkdigital.com.
Here's what Massage & Bodywork readers say:
"Massage & Bodywork is an invaluable tool for me on many aspects of our profession."
"I find the articles very enlightening and conducive to the continuation of my education."
"Thank you so much for a professional and informative magazine for massage therapists."
Read the current Massage & Bodywork issue.
Visit the Massage & Bodywork digital archive to access even more insider information and industry updates for professional massage therapists.
Blind and visually impaired readers, or those wishing to read the content in a text-only format, are able to access readable files with our Text-Only Magazines. These files are compatible with JAWS, Window Eyes, and Zoom Text.
Want to work with Massage & Bodywork magazine?
Submit an article for consideration to Massage & Bodywork magazine.
Learn about how to advertise in Massage & Bodywork magazine by contacting our advertising department at advertising@abmp.com.