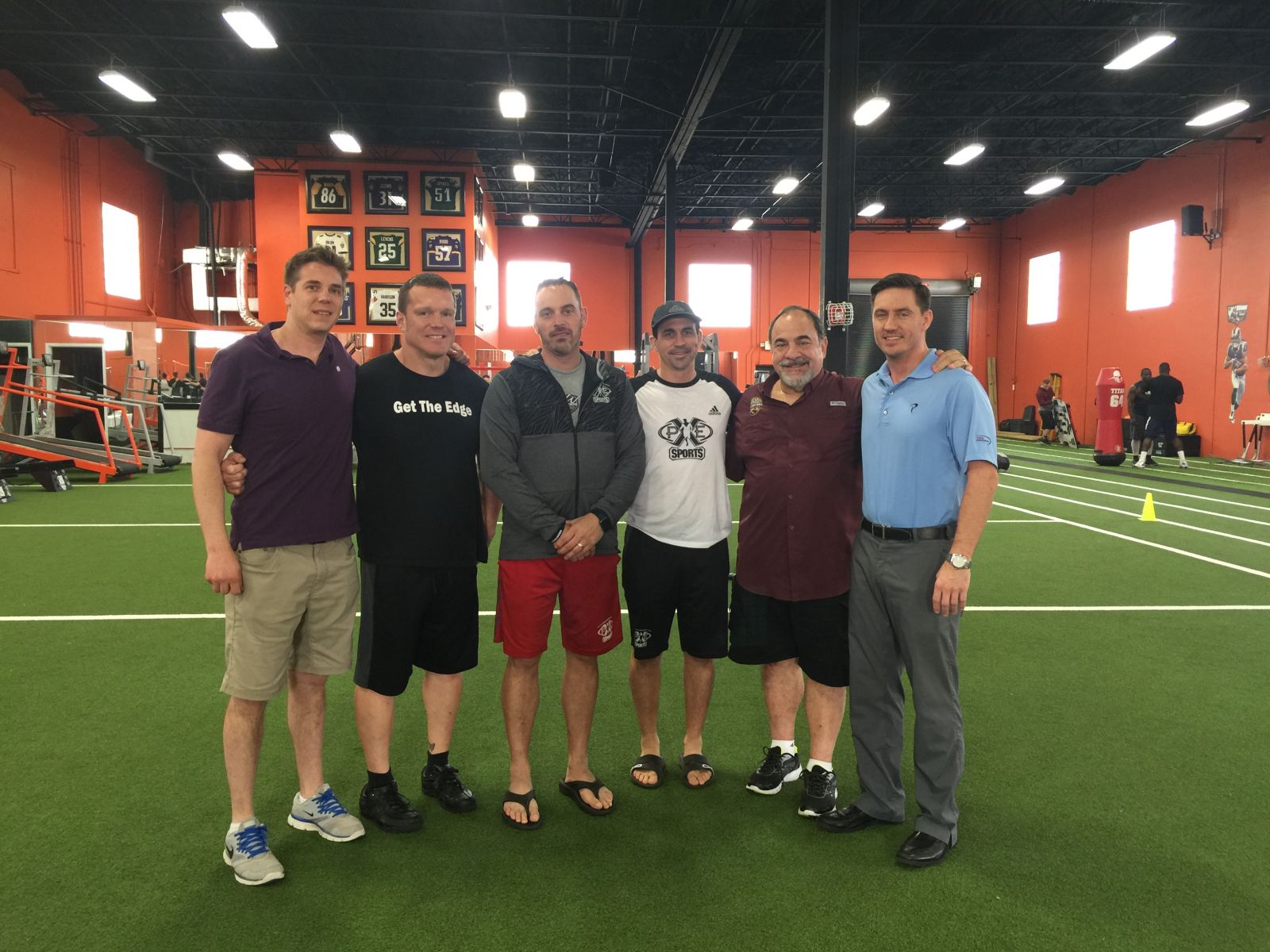 From left: ABMP's Brandon Twyford, Coach Don Stanley, XPE Master Trainer Bill Welle, Tony Villani, George Kousaleos, XPE Sports Chiropractor Kevin Christie
This blog gives added insight into Brandon Twyford's experience earlier this year when he visited George Kousaleos's and Tony Villani's pre-NFL Scouting Combine camp near Miami, Florida. Click here to read Brandon's full article "Razor's Edge" in the current issue of Massage & Bodywork magazine.
Most people know massage and bodywork can be extremely effective for recovery from athletic training, but what I saw at the XPE Sports Academy in Boca Raton, Florida, gave me a new appreciation for just how valuable manual therapy can be for athletes in intense training.
George Kousaleos, founder of the CORE Institute, has partnered with Tony Villani, founder of XPE Sports Academy, to offer myofascial therapy to NFL pros and elite college athletes hoping to make it in the NFL. As part of the partnership, Kousaleos is offering an internship program in CORE myofascial therapy for therapists interested in working on athletes. The weeklong internship culminates in a certification in CORE myofascial therapy and a spot on Kousaleos's planned national sports bodywork team.
Kousaleos and Villani's goal with the bodywork program is to both assist in avoiding injury and make tiny adjustments to an athlete's body that allow the athlete to train at a progressively higher intensity day after day. The work is less deep than something like structural integration, but it is targeted and precise—it's not done with a strictly therapeutic approach; it's done with a goal of helping athletes achieve demonstrably better results than they ever have before.
At this level of training, pulled muscles and joint sprains are common, but Villani and his team of specialists at XPE all told me they were extremely pleased at how few injuries they had seen this year. They credited the bodywork the athletes were receiving with the reduction in injuries.
Every therapist I spoke to also raved about the depth and quality of the information they were learning at the camp. Nearly all of them said the concepts and techniques would enable them to work more efficiently with less stress on their bodies, thus prolonging their career. The therapists were brimming with excitement as they said they couldn't wait to get back to their home practice to start putting their new certification to work.
I was there in early February, and the NFL Scouting Combine took place shortly after that in Indianapolis. At the Combine, the nation's top college athletes showcased their skills for NFL coaches, owners, and scouts. It's been interesting to watch the results of the NFL Combine for the players I saw training at XPE. Villani's results speak for themselves. For example, Jeff Driskel, a quarterback from Louisiana Tech, was expected to be picked in the middle of the draft. But his performance at the Combine, where he ran the fastest 40-yard dash of all quarterbacks, may just bump him up a round or two.
Looking around the training facility on the day I left, I could see the immense potential for sports massage to be even further accepted into mainstream athletic training, as a critical component of a well-rounded health-care team. Nearly all major sports teams, as well as savvy individual athletes, have already embraced sports bodywork as a fundamental part of their training and recovery regimen, but even those who scoff at the idea that massage achieves anything more than relief from sore muscles will eventually be forced to accept the effectiveness of massage therapy in aiding intense training, because Kousaleos's results at Florida State University and XPE Sports can't be ignored.
As Villani likes to say, "Numbers don't lie."
—Brandon Twyford is associate editor for Associated Bodywork & Massage Professionals.
Click here to read Brandon's full article "Razor's Edge," in the May/June 2016 issue of Massage & Bodywork magazine.