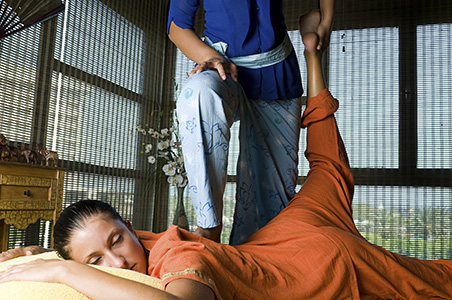 I thought about it today, and I've only had four types of massage: Swedish massage, Thai yoga massage, Rossiter technique, and craniosacral therapy. Within my Swedish massage sessions, therapists have used different techniques or practices like neuromuscular therapy, myofascial release, and trigger point therapy, but as a consumer, I still put those bodywork techniques under the massage umbrella.
What I realized today is some of my best bodywork experiences have come when I was willing to try something new. Instead of just going in and asking for a massage, I said, "Sure, I'll try that." When the therapist I'd booked wasn't available, and a craniosacral specialist was there instead, I agreed to a craniosacral session, even though he said he'd be more than happy to give me a standard massage. I didn't even know what craniosacral therapy was at the time, but it sounded interesting.
Similarly, my first Thai massage session came about by chance, and it's still one of the best bodywork experiences I can remember. It's now my favorite kind of massage.
If I had only ever stuck with what I knew, I would have never been exposed to these other forms of bodywork. It's valuable to go outside your box in many aspects of life, and massage and bodywork is no exception.
As a practitioner, you may already know this, but I was surprised to learn there are more than 300 kinds of bodywork. Those are just the main ones—many modalities have their own variations and sub-modalities. Some of them sound fascinating—I'd particularly like to try Watsu (water massage), Zero Balancing, or Rolfing.
So many modalities to choose from makes it fun to be a consumer of massage, and it must keep it interesting for practitioners, too. There's always something new to learn, which is great for strengthening your practice and avoiding burnout.
How about you? How many modalities have you explored through your practice? Have you ever exposed a client to a new modality that became his favorite? Comment below and let us know—we'd love to hear from you.
—Brandon Twyford, ABMP Assistant Editor