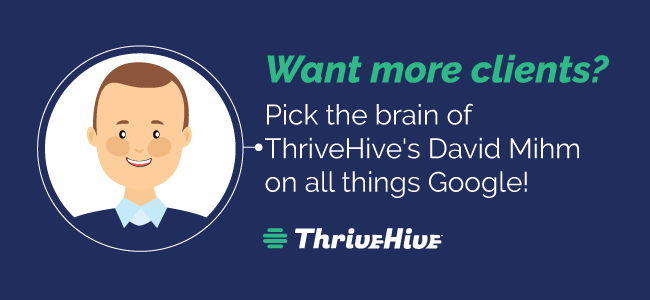 Have questions about your Google My Business profile? Want to know where you need to improve and be more efficient on Google? Ask ThriveHive's Google expert, David Mihm, who is standing by to answer your burning questions about Google My Business. Click here to submit your question by Wednesday, August 21, and he'll answer via video, which will be available next month and sent in the next ABMP Works For You newsletter.
ThriveHive, a leader in guided marketing and advertising solutions for local businesses, provides exclusive marketing benefits to ABMP members. ThriveHive's Google Grader gives you an instant grade of your presence on Google. Follow that up with the new Perch app, which recommends simple steps to continually improve your online presence. Both are FREE for ABMP members.
Submit your questions about Google at www.thrivehive.com/abmp-qa.
Learn more about ThriveHive Google Grader: www.abmp.com/updates/benefits/new-abmp-member-benefit-thrivehive-google-grader