ABMP partnered with ThriveHive—an established Google Partner—to help you get more massage clients. It's easy . . . and FREE!
First: Get your Google Grade (FREE)
See what your Google business profile is missing and get recommendations on how to improve. Click here.
Second: Download the Perch App ($49/mo marketing value—FREE for ABMP members!)
After you receive your grade, you'll automatically be directed to Perch where you can manage and maintain your massage business right from your phone. (Previously received your grade? Click here to go straight to Perch.)
Click the infographic below to see what the award-winning Perch app can do for your massage business!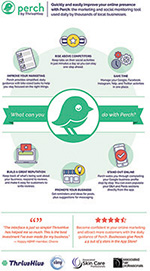 You know that online marketing is important, but to you it feels like a lot of fruitless time spent on keeping track of things, thinking of what to write, switching between platforms, and figuring out where to focus. Perch eliminates all of this so you can market efficiently. The app monitors your online presence and comes up with prioritized, customized tasks that you can complete quickly within the app. Perch even provides example text and ideas so you're not starting from scratch. With marketing so effortless, you can stay focused on your day-to-day while your business attracts more clients.
Take advantage of this member benefit today! See why thousands of small businesses use the daily guidance of Perch to improve their local presence and attract more customers.