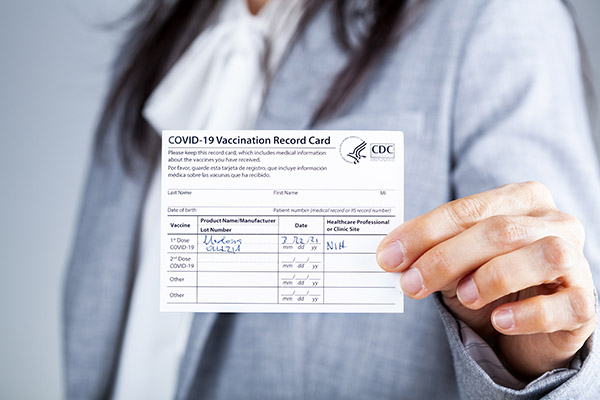 "Can I ask my clients if they have been vaccinated, or request proof of vaccination?"
by Karrie Osborn
This is the question we've been receiving pretty steadily from ABMP members over the past few months. And while this has yet to be tested in the courts, so far, experts say you can ask your clients about their vaccination status, as well as deny service to those who can't provide proof of vaccination. One caveat—know the rules in your state because there could be state exceptions when it comes to denial of service.
According to Michele Goodwin, a professor of law at UC Irvine and director of the Center for Biotechnology and Global Health Policy, a business can legally ask its customers for vaccination information. If the customer refuses to comply, the business can similarly refuse to provide service.1 Georgetown Law professor and public health expert Lawrence Gostin agrees. "It is lawful and ethical for a business to require proof of vaccination as a condition of working or getting service."2
Author and pathology expert Ruth Werner explains further how this impacts the massage and bodywork profession: "Business owners are allowed to put reasonable safety-related restrictions on who receives their services. In this way, we can turn away clients who are drunk or high, because they themselves may be at risk, or may put MTs at risk. A COVID vaccine is a similar situation. An MT can make a case that it is a safety issue, because of the risk of exposure to themselves, to other clients that come into that space, and to anyone else (including young children) that MT can contact."
Remember, it is NOT considered a violation of HIPAA (the Health Insurance Portability and Accountability Act) to ask clients if they have been vaccinated. HIPAA is actually a pretty narrow and specific law. It doesn't restrict or forbid anyone from asking anything. Nor does it restrict or forbid anyone from demanding proof about a medical condition. Instead, HIPAA provides the rules health-care providers must adhere to as part of their requirement to protect the private health information of patients/clients. For example, it prevents a physician from telling MTs anything about their client's medical information, unless that client specifically gives the physician authorization to do so.
So, like the other questions on a massage therapy health intake form about medical conditions, surgeries, medication use, etc., asking if a client has been vaccinated does not break a HIPAA rule. However, what you do with that information is another story. The answers to those questions are protected under HIPAA.
As reported by CapRadio, some have pointed to the Americans with Disabilities Act (ADA) as a means for allowing unvaccinated customers to skirt the vaccination rules established by a business. But that doesn't wholly apply in this circumstance. "The ADA may limit the ability to discriminate against people who have real contraindications, but it has to be an actual disability or limit [and] if there is one, the person is entitled to a reasonable accommodation, not necessarily to just walk in," says Dorit Reiss, a professor of law at UC Hastings and a member of the Vaccine Working Group on Ethics and Policy.3 The ADA, experts say, does not provide protections for a person who just doesn't want to be vaccinated.
Still, it's important to check with your state for its particular regulations regarding denial of service relative to vaccination status. Several states, including Florida, Montana, and Texas, have issued executive orders limiting private businesses from requiring proof of the vaccine status of its customers. Know your state's rules.
Notes
1. Sasha Hupka, "No, It Is Not Illegal for Businesses to Require Proof of Vaccination," CapRadio (May 25, 2021), www.capradio.org/articles/2021/05/25/no-it-is-not-illegal-for-businesses-to-require-proof-of-vaccination.
2. Ali Swenson, "Federal Law Allows Businesses to Ask for Proof of Vaccination," Associated Press (May 21, 2021), www.apnews.com/article/fact-checking-533636796046.
3. Hupka, "No, It Is Not Illegal for Businesses to Require Proof of Vaccination."
Here are some other resources on this subject: