An interview with ABMP's director of education on the association's new student initiatives.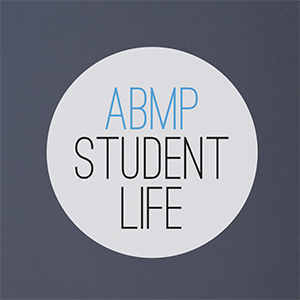 ABMP Student Life is a treasure trove of resources that supports the process of student learning.
Darren Buford: Can you explain the newly launched ABMP Student Life program?
Anne Williams: ABMP Student Life is a free, user-friendly suite of resources that support massage and bodywork students as they progress through a training program and take their first steps in their new careers. Every other week students receive an ABMP Student Life email. When they open the email, they can do things like download a special graphic organizer that makes learning muscle origins and insertions easier or watch a video that shows four great techniques to add to a foot massage routine. Students might download a quiz-preparation form or a checklist for organizing an effective massage exchange with a classmate. Maybe they'll want to click through a colorful slide deck on planning a study party or tips for getting more sleep. The emails organize the content into bite-sized chunks to make it easy to absorb and utilize in a short amount of time. Some students will prefer to log in to www.abmp.com and scroll through the impressive array of resources and videos we've compiled to find exactly what they want and need—right now.
DB: What value does it have for massage and bodywork students?
AW: At ABMP, our education team is comprised of people who have spent their lives working in massage practices and in massage and bodywork education. We know what it takes to thrive in this profession, and we know that students will have to work hard to obtain the knowledge and hands-on skills they need to build successful careers. Our goal is to support students in every way that we can by providing time-tested and research proven study aids that make learning easier and more time-efficient. We also strive to acknowledge and support the life-changing experience students have during their training programs. They have to figure out how to balance school, work, family, friends, and study. It's a lot, and we want to affirm their efforts and offer encouragement.
DB: Many students are nervous about taking the licensing exam and finding a first massage job. Does ABMP Student Life address these issues?
AW: Yes! As students near the end of their massage or bodywork training program, we offer two unique resource tracks. One is called Pass the Test. It walks students through a step-by-step process of applying for the MBLEx or their state-approved exam, organizing a study plan, and then breaking content out into effective study sessions using the right types of study tools. The other track is called Plan Your Career. It walks students through the processes of finding a first massage job, setting up a new massage practice, or planning a blended career where they do a little of both. For example, we have sample resumes and cover letters for spas, chiropractic offices, or massage clinics. Students can see how to tailor their job-hunting materials for specific employers. We have a list of interview questions students can role-play with classmates to prepare for interviews with potential employers.
DB: How does ABMP Student Life work in conjunction with the newly launched ABMP Exam Coach?
AW: ABMP Exam Coach is a separate product. It was specially designed to prepare students to pass the Massage & Bodywork Licensing Exam (MBLEx). Because of the clever way ABMP Exam Coach breaks content down into subjects and topics, the program is also useful as a study tool when preparing for quizzes and exams during school. When students or new graduates purchase ABMP Exam Coach, ABMP gives them a credit on their account that they can use toward a discounted first-year professional membership. It's like a savings program, because new graduates often struggle to come up with the funds they need to start their careers. When money is tight and they need to obtain massage liability insurance, they can apply their ABMP Exam Coach credit and get the best protection in the profession along with the continued career support offered by ABMP for the best price out there.
DB: How can schools and instructors partner with the new programs to help students succeed?
AW: Teachers are able to access ABMP Student Life to bring these resources into their classrooms. For example, they might download and pass out the ABMP pathology graphic organizer as a note-taking form before teaching a class on fibromyalgia. They might use the time-management resources to help students organize their work schedule, classes, and study, or they might use the Exam Preparation Form to teach students effective methods for preparing for quizzes and exams while in school. With 36 videos, 42 slide decks, and 61 forms, checklists, activities, or samples, ABMP Student Life is a treasure trove of resources that supports the process of learning. Teachers are encouraged to sign up their students and access the materials that enhance their lessons. To sign up, visit www.abmp.com, click on the Student tab on the top navigation bar, and click on the ABMP Student Life circle to register for free access. If you already have an ABMP account, simply login at www.abmp.com with your email and password, then click on the orange "Student" button on the left-hand side navigation bar. I hope students enjoy this free program and that it provides some fun and easy ways to get more out of school and enter the massage profession full of enthusiasm, ready to make a difference for clients.
—Darren Buford is the director of editorial, design, and digital strategy for ABMP.
—Anne Williams is the director of education for ABMP.